Family Dental Care In Bedford
Care That Is Centered on You
When it comes to your smile, achieving optimal dental health and total satisfaction for every patient is our primary goal. We know how important a smile is in helping create a healthy, positive self-image. A healthy smile is a great asset—it reflects the owner's personality to the people they meet in their personal and professional life.
At the office of Jeff Corbet DDS, our work is about more than healthy teeth and gums—it's about creating relationships. We aren't some corporate dental practice where you might see a different dentist every visit. Each member of our team works with our patients to help them get their perfect smile and the confidence that comes with it.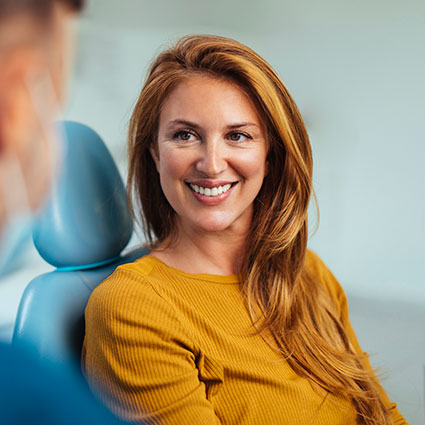 How We Can Help
Consultations and Dental Exams
Dental Cleanings and Deep Cleanings
Keeping teeth clean and plaque-free is one of the best ways to keep smiling without issue for years to come. That said, patients can be confident that Dr. Corbet will only suggest deep cleanings when he's sure that they're the best choice for their health.
One of the many dental hygiene treatments offered in the practice is a dental sealant. These sealants are painted onto a patient's teeth to effectively and painlessly protect them from decay.
To keep tooth enamel healthy and strong, fluoride treatments may be recommended as a part of your routine checkup.
Accepted Insurance
Jeff Corbet DDS accepts the following insurance:
Aetna Extend
Ameritas Classic
Blue Cross Blue Shield of Texas
Careington Platinum PPO/POS
Cigna DPPO
Dental Network of America
Dental Select Platinum
Humana PPO Preferred
Lincoln Financial
Metlife PDP Plus
Principal PDN
Sunlife
Call (817) 354-0606 or request an appointment online to get started today!
Contact Jeff Corbet DDS
We'd Love to Hear from You! Call (817) 354-0606

CONTACT
Jeff Corbet DDS
2205 Harwood Rd
Bedford, TX 76021
T: (817) 354-0606

FIND US
Our office is located at the intersection of Harwood Road and Central Drive, just past CVS. Chase Bank is across the street from us, and Kroger is close by as well. Plenty of free parking available, including accessible. Some of our seniors are able to take advantage of a service that brings them from their site to us as well.
Same day appointments accepted, where available. Emergency hours, if needed.
We accept several PPO plans and some DMOs as well. Our staff will do a complimentary insurance verification for all patients and assist with filing claims. Major credit cards and CareCredit® are also accepted.
Schedule Your Appointment Today
Call our office to schedule an appointment and get the quality dental care you need.