Dentures may be an option when crowns or bridges cannot be done. Depending on the patient's needs, there are different types of dentures to choose from. These include full dentures or partial dentures, and implant-supported dentures.
What to Expect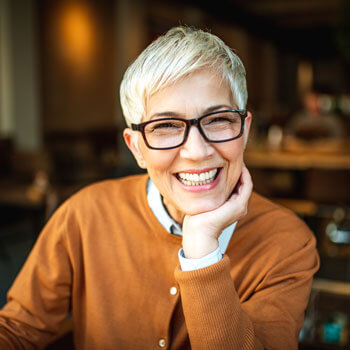 The treatment and process of getting dentures typically occurs over a number of weeks and begins with the dentist taking a preliminary impression of your mouth. These impressions provide our dentist with a model of the mouth, and we use this as a blueprint for the design of your new dentures.
For patients who have lost all their teeth, implant supported dentures provide a little more stability and better chewing ability than traditional dentures. The top plate of the denture acts like a suction cup, where it fits over the roof of your mouth and is fairly secure. The lower plate fits over the ridge and has to be balanced with the muscles.
Unfortunately, the chewing capacity with dentures is about 30% of natural teeth. This increases to 50-60% with implanted supported partials. Your partials can be made from a hybrid nylon material or cast metal; the teeth are set in acrylic.
Most patients get used to their new dentures in 2-4 weeks, with adjustments. As the jaw bone remodels itself, there may be some bone loss. Implant supported dentures have less bone loss; in either case, yearly visits are suggested to have an oral check-up.
Taking Care of Your Dentures
Your new dentures can last anywhere from 5-20 years, depending on the patient. Dentures must be cleaned nightly with a special brush we provide and non-abrasive soap, like Softsoap®. Patients should never wear their dentures at night to allow their gums and bones to rest.
Find Out More
Contact our office with any questions and concerns; we're here to help. Call today!
CONTACT US

Dentures Bedford, Euless & Hurst TX | (817) 354-0606