How We Help You
Many patients come to our practice because of the variety of options we offer. In addition to the many cosmetic procedures available, we do tooth-colored restorations, dental bonding, and single-visit crowns.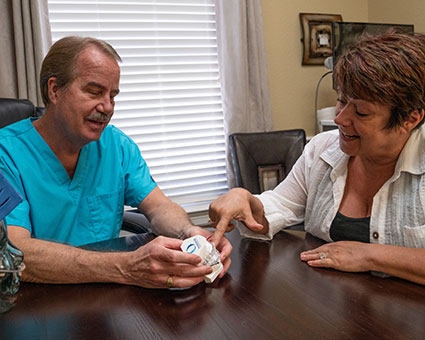 Tooth-colored Fillings—Composite or white "tooth-colored fillings" are used to repair damage due to decay. To prepare your tooth for the filling, first we remove the decay and prepare the tooth. From there, a tooth-colored material is applied, cured, and bonded to your tooth with a special LED light. Once the filling is cured, it's polished and shaped to match the rest of your teeth. The result is a natural-looking, virtually undetectable alternative to traditional silver/amalgam fillings.
Dental Bonding—Dental bonding offers an alternative to veneers. It's typically used to restore chipped, discolored, cracked, or disarranged teeth. For most patients, this procedure may be completed in a single office visit, and significantly improve the tooth's appearance. The bonding material is not as strong as natural tooth enamel, so it's more likely to chip, stain, or break. Dental bonds typically last three to five years before a repair is needed.
Single-Visit Crowns—To continue to offer the most technologically advanced care to our patients, we have incorporated the Planmeca CAD CAM Restorative system into our treatment repertoire. With this system, we're able to produce single-visit restorations, such as crowns, bridges, and veneers. All of our restorations are designed to restore function and aesthetics to your smile.
Some benefits of this system include eliminating the need for messy impression materials, a significantly lowered wait time for restorations, and customized, natural-looking results. In addition, it allows us greater control over the quality of your restoration, and ensures you receive the results you deserve. We believe this technology elevates the entire dental experience for patients and dentists alike.

Restorative Dentistry Bedford, Euless & Hurst TX | (817) 354-0606