About Jeff Corbet DDS
Dr. Jeff Corbet and his caring, professional staff have been serving the dental health needs of Bedford families since 1985. We are proud to have been part of the growth and change in our community and appreciate the opportunities it has given us to build our practice.
Building a long-term, trusted relationship with our patients enables us to focus on achieving beautiful and healthy smiles.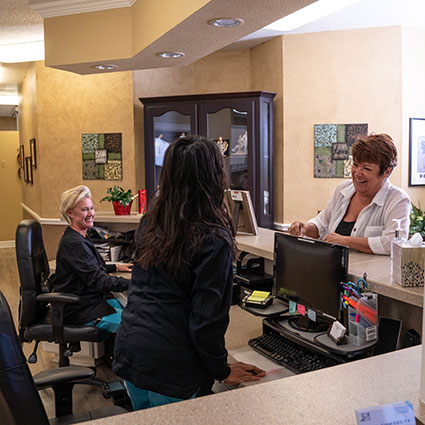 Care That Is Centered on You!
Our mission is to "provide care that is centered on you."
When it comes to your smile, achieving optimal dental health and total satisfaction for every patient is our primary goal. We know how important a smile is in helping create a healthy, positive self-image. A healthy smile is a great asset—it reflects the owner's personality to the people they meet in their personal and professional life.
At the office of Jeff Corbet DDS, our work is about more than healthy teeth and gums—it's about creating relationships. We aren't some corporate dental practice where you might see a different dentist every visit. Each member of our team works with our patients to help them get their perfect smile and the confidence that comes with it.
The Team That Keeps You Smiling
An essential part of good dental care is having genuine concern for your patients and their wellbeing. Our staff is kind, caring, and professional. From the moment you walk in the door, you can rest assured you are in good hands. It is their mission to brighten your smile and make your dental experience fun!
Advanced Technology for Best Results
In addition to digital radiography, we use several other devices to provide patients with a superior experience. These include:
Intraoral camera—allows us to capture and display digital images from inside a patient's mouth and share those images with the patient
CariVu™—allows our dentist to "see through" the tooth to find cavities and cracks which might otherwise be difficult to locate
Ready to Book?
Book an appointment today and get started on the journey to a bigger, brighter smile.
Call us today to get started.

About Jeff Corbet DDS | (817) 354-0606